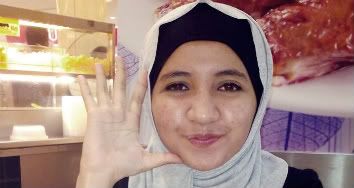 Apa Yang Dikatakan Dengan Permulaan.
Blog ini ditubuhkan bukanlah untuk bercerita atau berbual kosong semata-mata. Tetapi untuk mengaplikasikan jari yang telah diberikan untuk menaip. Sekiranya didapati blog ini kurang lah best, disarankan korang hendaklah menghentakkan kepala kedinding sebanyak tiga kali dan teruskan membaca. Kerana korang hanya mampu merasai kelainanya dan mendapati bahawa blog ini sungguh 'Pehh!' selepas hentakan tersebut. Blog ini sungguh membosankan dan tiada intipati yang berguna jadi dalam keadaan korang yang kurang normal diakibatkan oleh hentakan tiga kali, korang akan lebih bergaya membacanya dalam keadaan begitu.
Kau Muzik Di Blog Aku.
Hello February
Monday, February 1, 2010
Today is the first day of

february

. well my first february wasn't so good tho. wake up early in the morning tahu. err,

5am

i guess cause i've got to do my

check-up

kat hospital since haritu ade doktor dtg rumah. semua family members pun pergi sekali. it's really tiring lahh. i'm sweating with a giant teardrops. haha. seriously weh. hospital tuh dah la besarkan, then kene walk around it macam ape je. then after dah setel pergi bilik

x-ray

.

ukw? semua doc and nurse kat situ, they thought me and my sister are

twins

. lol. snapp! they wrong. semua pun berpunca dari previous nurse tersilap tulis my IC number. no wonder muke dorang pun macam pelik je bile ingat kitorang ni twins, sbb muke tak berape nak same sgt. well, actually same, but not as a twin. but the good things is i've enter that

spooky

room together with my sister. haha. but at the end, i know i was wrong so better

come clean

je lah dgn dorang kan. so, i explain everything since doc and nurse lelaki tu looks really

cute

. haha. sorry (:

kinda funny to think about it again and again. haha. it just hilarious!
twins huh? haha

Goodbye.
FACEBOOK
TWITTER