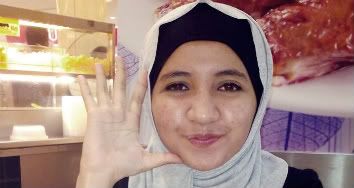 Apa Yang Dikatakan Dengan Permulaan.
Blog ini ditubuhkan bukanlah untuk bercerita atau berbual kosong semata-mata. Tetapi untuk mengaplikasikan jari yang telah diberikan untuk menaip. Sekiranya didapati blog ini kurang lah best, disarankan korang hendaklah menghentakkan kepala kedinding sebanyak tiga kali dan teruskan membaca. Kerana korang hanya mampu merasai kelainanya dan mendapati bahawa blog ini sungguh 'Pehh!' selepas hentakan tersebut. Blog ini sungguh membosankan dan tiada intipati yang berguna jadi dalam keadaan korang yang kurang normal diakibatkan oleh hentakan tiga kali, korang akan lebih bergaya membacanya dalam keadaan begitu.
Kau Muzik Di Blog Aku.
talking rubbish
Friday, January 15, 2010
It's friday afternoon. But it doesn't looks like afternoon at all. I'm at car right now. With a

bloody-shit

messy hair and ugly face without any 'bedak'. Actually, i just wake up from my nap then immediately my mom ask me to followed her. arrgh, seriously berbaloi giler having my nap tadi. hahaha. Well, i don't know what to do now. Just staring at this empty town with a lots of cars, buildings. hey, ukw? Just now i watched a cat get hit by car. OMG!

YOU DRIVER! WHERES YOUR BRAIN? KAT LUTUT ERH? STUPID DRIVER LAH YOU. KUCING PUN TAK NAMPAK KE!

He's so mean! I'm really pissed off. I'm a cat lovers, duhh! That's why I'm angry. It's clearly yang kucing tuh tengah nak melintas. huh, R.I.P cat. I'll pray for you ok.

Now we are on our way to tesco. Just fetch my sister at her office. She's been asking my mom to bring her there almost a week i guess. But seriously, i'm not in my mood to go out with this shit face and hair i was on. Maybe i should just

hiding

my face kat dalam kereta.

OK. we're here. My sister get mad when i decided to stay at car. WTH! lantak la situ. My mom was with her ok, she's not alone. so what's up with that

angry face

kan. haish. Just go lah.

Hot-tempered

betul. I'm sick of it. But i still love her tho.

I'm done. Sorry for this rubbish. See ya.

Goodbye.
FACEBOOK
TWITTER