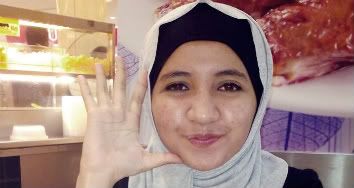 Apa Yang Dikatakan Dengan Permulaan.
Blog ini ditubuhkan bukanlah untuk bercerita atau berbual kosong semata-mata. Tetapi untuk mengaplikasikan jari yang telah diberikan untuk menaip. Sekiranya didapati blog ini kurang lah best, disarankan korang hendaklah menghentakkan kepala kedinding sebanyak tiga kali dan teruskan membaca. Kerana korang hanya mampu merasai kelainanya dan mendapati bahawa blog ini sungguh 'Pehh!' selepas hentakan tersebut. Blog ini sungguh membosankan dan tiada intipati yang berguna jadi dalam keadaan korang yang kurang normal diakibatkan oleh hentakan tiga kali, korang akan lebih bergaya membacanya dalam keadaan begitu.
Kau Muzik Di Blog Aku.
sunday morning
Sunday, January 10, 2010
good morning (:

today not so great , it's SUNDAY . and yess if hari ahad banyak kerja rumah yang kena buat . basuh baju , kemas rumah , kemas bilik , sidai baju , lipat baju dan banyak lagi . hahaha . but kalau tang masak ,

GIVE IT TO ME

! i'm PRO . hahaaha. just now , my dad dtg rumah , before tuh dia ade call and said , i've got a letter . BANG ! immediately , my otak dah think , OMG ! surat

PLKN

ke ? oh please , not now . i'm not ready lahh . but what to do kan klu betul . hmm , then my dad sampai and dia hulurkan surat tuh . i was like , hah ? klu surat PLKN takkan lah sehodoh nie . in fact , mesti

under goverment

. kan . nvm , just open je lah . well , lucky me surat tuh bkn utk PLKN . hahhaha . its form

PPD KLANG

. pasal nursing punye kos . seriously tak minat pun nursing . but thank you sebab ingat saya PPD . hahaha . life after SPM mmg mcm ni , banyak dpt surat . hahaha .


whoopsie ! mama dah panggil . dia ajak pergi pasar . so nothing to 'taip' anymore and get ready nak pergi pasar . actually , mmg suke pergi pasar . mama tak ajak pun . haha . byebye .



*maybe someday i would be a fabulous wifefor a charming and lovely husband .haha hopefully (:


Goodbye.
FACEBOOK
TWITTER