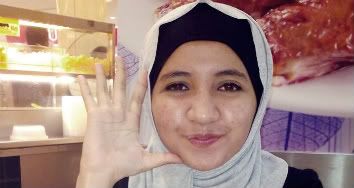 Apa Yang Dikatakan Dengan Permulaan.
Blog ini ditubuhkan bukanlah untuk bercerita atau berbual kosong semata-mata. Tetapi untuk mengaplikasikan jari yang telah diberikan untuk menaip. Sekiranya didapati blog ini kurang lah best, disarankan korang hendaklah menghentakkan kepala kedinding sebanyak tiga kali dan teruskan membaca. Kerana korang hanya mampu merasai kelainanya dan mendapati bahawa blog ini sungguh 'Pehh!' selepas hentakan tersebut. Blog ini sungguh membosankan dan tiada intipati yang berguna jadi dalam keadaan korang yang kurang normal diakibatkan oleh hentakan tiga kali, korang akan lebih bergaya membacanya dalam keadaan begitu.
Kau Muzik Di Blog Aku.
1 Litre Of Tears
Sunday, January 17, 2010
I finished watching
1 Litre Of Tears
just now, and I wasn't expecting how wonderfully sentimental it would be. I don't cry over anything, but by the end of the drama, I was near dehydration
.

I was introduced to this drama by my cousin who said she cried on every episode, and I was, ohh really? I've never interested into sad, romantic shows, but once she recommend, it was great, and I fell in love with the storyline
and the characters
.

The drama is based on a
true story
and a book written by a girl named Aya
who had
Spinocerebellar Degeneration Disease
, it was an
incurable disease
. This disease makes the patient gradually lose control of movement until they're unable to walk
and talk
, and eventually, live
. The drama isn't blindly based on the book, it's more of an adaptation, because both Ayas (the one from the book and the one from the drama) are pretty different
.

I cried a lot while watching this drama. In every single episode I guess. I wasted a lot of
tissues
too. I cried almost
3 litre of tears
. OMG! I've never cried so badly. But it has changed since I watched this drama. My eyes even swollen
. It was really an inspiring
drama cause the girl who is suffered
from that disease, had to
sacrificed
her teenager life. But she never
gave up to continue her life even though she'd know that her disease could not be cured
at all. She had this disease at 15
, and she death at 25
.
T recommend you to watched it.
Watch it here

Goodbye.
FACEBOOK
TWITTER