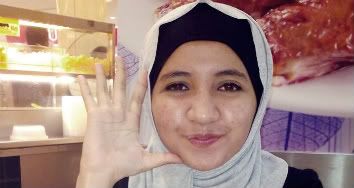 Apa Yang Dikatakan Dengan Permulaan.
Blog ini ditubuhkan bukanlah untuk bercerita atau berbual kosong semata-mata. Tetapi untuk mengaplikasikan jari yang telah diberikan untuk menaip. Sekiranya didapati blog ini kurang lah best, disarankan korang hendaklah menghentakkan kepala kedinding sebanyak tiga kali dan teruskan membaca. Kerana korang hanya mampu merasai kelainanya dan mendapati bahawa blog ini sungguh 'Pehh!' selepas hentakan tersebut. Blog ini sungguh membosankan dan tiada intipati yang berguna jadi dalam keadaan korang yang kurang normal diakibatkan oleh hentakan tiga kali, korang akan lebih bergaya membacanya dalam keadaan begitu.
Kau Muzik Di Blog Aku.
♥ Hilary Duff !
Monday, August 24, 2009
Since I was like 12 o 13 I'm a

huge fan

of

HILARY DUFF

. Until now , still I'm one of her

fan

. I mean huge , err.. huge fan !! I

watched

her show

Lizzie Mcguire

everyday(mase dulu2 lahh) , all her movies and I

bought

almost all her albums :

'Metamorphosis'

,

'Hilary Duff'

,

'Dignity'

and

'Most

Wanted'

. I started listen to english songs because of her

(and defenitely because of my sister too)

. OMG ! I just

love her . Isn't she

preety

? Hell yeah !

No doubt

about it . haha . Now , she do

have

a lot of new films such as

'

War Inc.'

,

'What Goes Up'

,

'G

reta'

,

'

Stay Cool'

and fews to coming but it doesn't even release in

Malaysia

. I'm just , what the.. kenape tak release kat sini ?! Sumpah sedey giler babe !! But I really

hope

her

new films

to come :

'FoodFight!'

,

'Provinces Of Night'

and

'T

he Story Of Bonnie And Clyde'

would release here . Please . I'm begging you .

Need

to watch it . ): Hey ,

before

I forgot . I think she

should

make a

'come back'

in music industry . Make a

new album

with

new songs

on it . I

miss

her voice act . haha . Hil , Just make more musics . I'm

waiting

for your

new album

.
xoxo ! peace .
Labels: yaww

Goodbye.
FACEBOOK
TWITTER