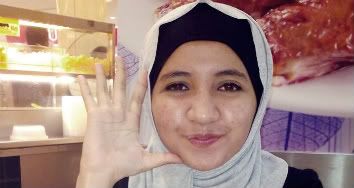 Apa Yang Dikatakan Dengan Permulaan.
Blog ini ditubuhkan bukanlah untuk bercerita atau berbual kosong semata-mata. Tetapi untuk mengaplikasikan jari yang telah diberikan untuk menaip. Sekiranya didapati blog ini kurang lah best, disarankan korang hendaklah menghentakkan kepala kedinding sebanyak tiga kali dan teruskan membaca. Kerana korang hanya mampu merasai kelainanya dan mendapati bahawa blog ini sungguh 'Pehh!' selepas hentakan tersebut. Blog ini sungguh membosankan dan tiada intipati yang berguna jadi dalam keadaan korang yang kurang normal diakibatkan oleh hentakan tiga kali, korang akan lebih bergaya membacanya dalam keadaan begitu.
Kau Muzik Di Blog Aku.
Love Just Is .
Sunday, July 12, 2009
11 JULY 2009
For me ,

love

is not a game
you should be playing with if
you think you can handle
it before you know what

love

is .

It needs two hearts ,
two peoples and It
would be one as
LOVE

.
YES !

Till now , I'm still

searching


one that will suit well with me .

NO , I'm not

fussy

when it comes
to this matter . It's just ,
Hard to see

two heart

will be
seperated eventhough they use
to

shared their love together

.



Love

is not about take it and leave it .
It takes more than that .
You will know when you already own

someone


who you can described

him/her

as your

love

.

So , take your time when
it come to your

love story

.
Don't be too rush .

Yet , for me ..
If I have someone there for me no matter
what , is just one of the most

amazing


things in this world and blow me

away

If I
Heard him

whispered

those three words


( I LOVE YOU )

through my

ears

.

To never really be alone cause I know
that person is

thinking of me


And

missing me

(how sweet is that) :)
It just one of those


wonderful things

in this world.

Sound

crappy

for a
person like me who don't
know anything about

love
bubbling about it . (:
Huh , I use to have it

(LOVE

)

,
but I lost it 2 years ago , untill now .
But , believe me babe/dude .
Once I found and love someone ,
Forever I will kept him as mine (:
Labels: MY LOVE STORY ?

Goodbye.
FACEBOOK
TWITTER